Other Outlander Knitting Patterns
March 18, 2015 in Outlander Inspired Knitting Patterns, Uncategorized by M C
I've been asked to put up Outlander knitting patterns for specific knits seen on in the Starz film adaptation of Outlander.
I have rather strong opinions regarding those knits, which the costume designer started out justifying as authentic to the 18th century, then revised to being not necessarily authentic but authentic to  her vision of the 18th century, regardless of the inconvenience of the historic record.  These remarks, coming on the heels of some mythology on 18th century hygiene, precipitated a rather funny thread in a Historical Knitting forum should you care to join it, and some testy remarks from history bloggers, Frock Flicks among them.
I haven't been shy either about expressing my dismay at Terry Dresbach's use of argumentum ex silentio, a conclusion based on the absence of statements in historical documents, rather than their presence, to justify her use of period inappropriate knits, costume elements, and debunked misinformation about daily life in the 18th century.
So I'm a little surprised to find myself pulling together this collection.
The Outlander Knitting Patterns belong to a designer in England, from whom the costume designer sourced some 70 knitted items.  While I might be able to study stills from the production and reverse engineer her creations that seems at best mean spirited, and at worst immoral.
But people really want to be able to reproduce some of the knits, not for historical reinactments (for which they'd be inappropriate) but for warm and fuzzy fun.  So in that spirit I've sought out some patterns which have the flavor of the Outlander knitting patterns.. without actually being them:
The Classic Elite Caplet is a pretty take on the caplet Claire wears over her dress.  Done in garter stitch it's a nice beginner project because you'll end up with something genuinely pretty and fun to wear. Classic Elite's Caplet
Rilana Riley-Munson's Garter Stich "When in Scotland" shawl: A nice take on a shawl seen often in the still images, while shawls like this aren't part of an 18th century woman's wardrobe this is a nice clean interpretation of the shawl worn on the set. I particularly like how it meets tidily in the front. "When In Scotland" shawl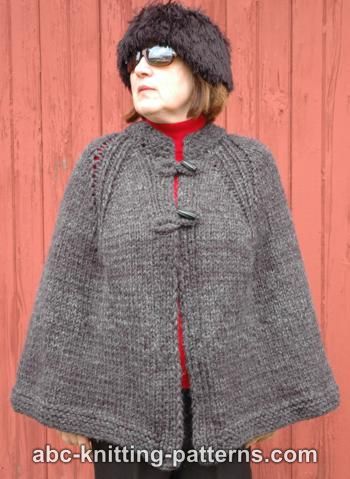 The Highlands Cape is not something I've seen yet on the set, but this is a relatively fast knit on a size 11 needle with bulky yarn and it's got something swishy going on: ABC Highlands Cape
The Dicey Bonnet: This is as close to the shape of the hats the men are wearing as I've seen..you'd make the dice band narrower (and not change colors) and I think, by george, you've got it! The Dicey Bonnet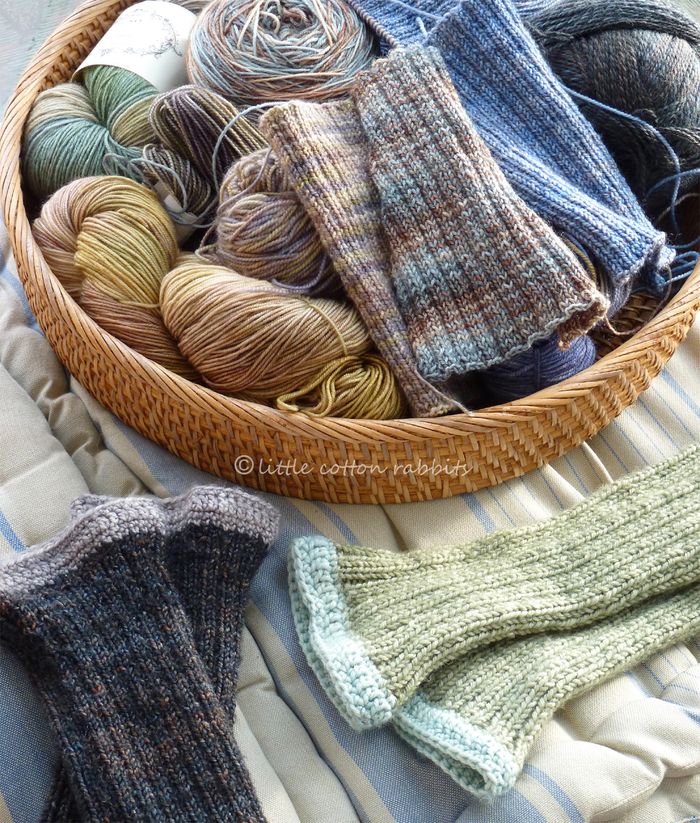 Little Cotton Rabbit's Wristwarmers are knit from sock yarn, making them a bit more 18th century authentic than the bulky knits being worn on the set, and, in my opinion, more wearable in real life.  These clever little wristies can be knit flat, or in the round, depending on which you're more comfortable with, and stretch nicely for a cozy fit. Wristwarmers
Knitting patterns for reinactors, this little booklet includes socks, mittens, gloves, and my personal favorite, a voyageur cap. Smoke and Fire Patterns
Seriously.. how cute is this? And it has a pattern for a knit highland coo and Nessie!